Teams
Features
SyncWith has recently launched an initial features for Teams, so that you can collaborate with colleagues on reports and data sources:
Being on a team lets you view and edit all team member's reports on a given Google spreadsheet using the SyncWith addon for Google Sheets
Being on a team also lets you access and use your team member's connections to services like Facebook Ads, Google Analytics etc
Limitations
This is an initial small team release, missing many features you might expect in the future, including:
We don't yet have any team billing, plans or quotas, so each team member is required to have their own account, and will have to pay for a subscription (or remain on our free tier)
Team members have full access, this means team members can (for example) delete your reports, access your data sources and connections etc. So please only invite team members you trust.
Creating a team
Currently there is just one way to get on a team: you must request to join another user using our Google Sheets Addon.
Prerequisites
Before you can create a team, you need to have at least 2 people who have installed the SyncWith Google Sheets addon
One of users has to have created at least one report within a Google spreadsheet.
All users have to have access to the Google spreadsheet
Steps
User 1 (Requester)
Open the Google spreadsheet
Open the SyncWith addon for Google Sheets
If other user(s) have created at least one report in this spreadsheet, then you'll see the Team reports heading, and the Request access button
Click Request access
You'll then arrive at syncwith.com, click Request to join and an email will be sent to the other user who created the report(s)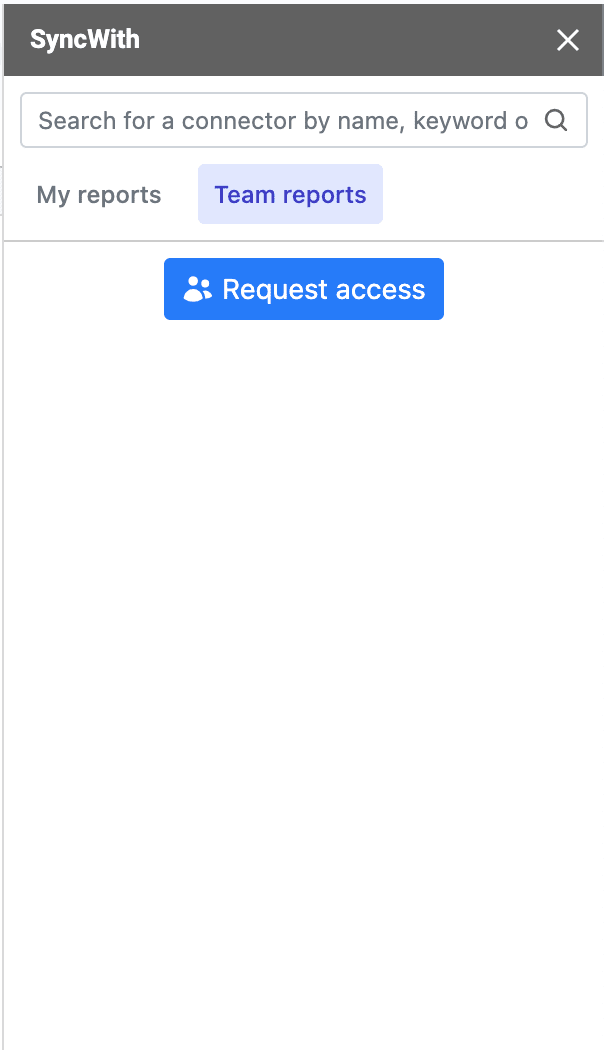 User 2 (Approver)
You should receive an email notification, notifying you that the other user has requested access, click the Approve request button in the email
You'll be taken to syncwith.com where you can approve the request
Once the request is approved, you'll see your team at https://syncwith.com/account/team