After trying a few options, we landed on a solution that's been working great for us. It uses CloudFlare workers and Cloudinary, both of which offer generous free plans, and most importantly it fits our philosophy making things automatic, so we don't have to think about them or waste time doing things manually.
We're using two innovative tools that I love using: Cloudflare Workers and Cloudinary's fetch feature to automatically optimize images on the fly. CloudFlare workers is a service that lets you run code front of your website, seamlessly with very low latency, and it let's us serve up optimized images on the fly without any manual steps. Our Cloudflare worker then uses Cloudinary to produce the actual optimized images. What I love about CLoudinary's fetch feature is that you don't have to upload any images, instead it requests the original image from your site as needed.
For our lazy (and high performing) solution, I was looking meet these requirements:
Newly added images are optimized with no additonal steps (no uploading required, no manual optimization)
Serve images from the same domain name (avoid additional DNS lookup and HTTPS connect time)
Avoid hardcoding image dimensions or quality
Minimal resources/accounts/servers to setup and manage
Background
First, in case you're not already familiar with Cloudflare, Cloudflare workers and Cloudinary:
Cloudflare is one of the world's largest web infrastructure companies. They started as a "dumb" content delivery network whose goal was to enable SSL for the world's websites. In the years since, they've rolled out many "smart" features that run directly on Cloudflare's edge network. One example is Workers, which lets developers run code close to users, reducing latency and ensuring speedy responses. . Workers are an ideal tool for our problem, because they can run seamlessly in front of our website, at the edge, with no delay or impact at all. Workers are also just amazing all around, and I highly recommend you check them out, setting up an image pipeline like this is just a small example of the type of things you can use them for.
Cloudinary, on the other hand, is a leading cloud-based platform specializing in image and video management. It offers an array of features like image optimization, transformation, and delivery, making it an invaluable tool for developers who want to streamline their media handling process. I think you'll find Cloudinary to be an incredibly versitile tool, in this article we barely scratch the surface of what it can do with images and video.
Setup
To get this setup, you'd first need to get a free account at each of Cloudflare and Cloudinary. There isn't setup or config required at Cloudinary, everything should just work out of the box. At Cloudflare there is some setup in involved, the key steps are:
Moving your domain's DNS to Cloudflare, so that Cloudflare can sit in front of your website, see this full setup article at Cloudflare
Creating a worker, and assigning it to your website under an HTTP route
This will give you the ability to deploy a worker in front of your website. In this solution the worker will ignore most requests, and handle just requests for images, so they can be optimized before the user sees them.
On-the-fly Image Pipeline
What makes this solution really hum is that you can set it up without changing any of your code, and once it's working, it just works. Your images are going to be lightning fast, fully optimized, with no tradeoffs such as serving images from another domain, or having long complicated image filenames, or having to do any manual work.
Here's an example showing the flow of how this all works:
A user visits your website
The user's browser requests an image from your website, for example:

https://site.com/images/logo.jpg

The Cloudflare worker intercepts the request, notices that this is a request in the

/images

path, so it should be handled
The Cloudflare worker determines the Cloudinary options for this image request, based on the image's format, device type, and user-agent capabilities, in this case

q_auto:good

to tell Cloudinary to set the image quality (and file size) automatically,

c_limit, w_1200

tells Cloudinary to scale the image down (but never up) if necessary to ensure its at most 1200 pixels wide, and finally

f_webp

to tell Cloudinary to deliver the image in WebP format if the user's browser supports it
The Cloudflare worker composes a request to Cloudinary to fetch an optimized version of this image, for example:

https

:

/

/

res

.

cloudinary

.

com

/

your

-

cloud

/

image

/

fetch

/

q_auto

:

good

,

w_1200

,

f_webp

/

https

:

/

/

site

.

com

/

images

/

logo

.

jpg

Cloudinary receives the request, if it doesn't yet have a copy of the image, it requests it at its url

https://example.com/images/logo.jpg

, but specifying the Cloudinary user-agent so that the CloudFlare worker can return the original image, otherwise Cloudinary pulls the image from its CDN
If Cloudinary hasn't yet produced the requested image transformation, it processes the image to produce the optimized image, caches it, and returns it
The Cloudflare worker receives the optimized image from Cloudinary and returns it to the user's browser, seamlessly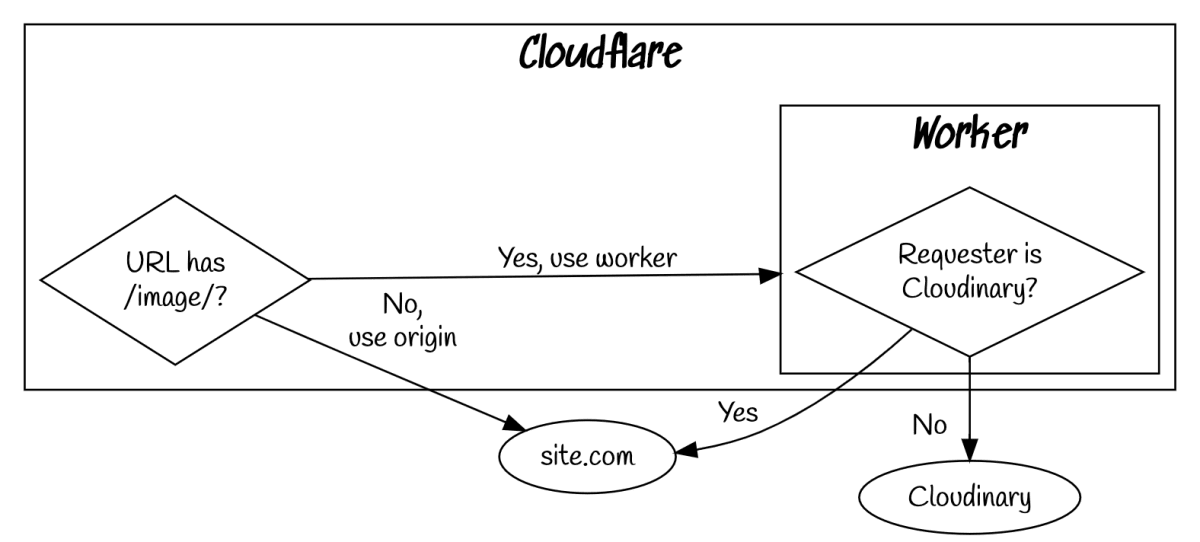 Example Results
Lets take a look at the big header image on this page (at the top!), and see the impact here. Note: this is a rather extreme example, the original image is straight from Midjourney, and seems to be exceptionally large at 1.6mb. But, I was able to just drop it in to our website, and not worry about it!